Alien: Isolation Review
Pay attention, Gearbox. This is how you make an Alien game.
Dropped into a desolate space station with little more than a torch and a few bits of scrap to survive, The Creative Assembly has constructed not only a reverent companion piece to Ridley Scott's seminal 1978 film but one of the scariest games we've ever played.
It comes down to the Alien itself: an imposing beast made of sinewy, black muscle, it's rarely seen but its terrifying presence permeates the entirety of the ghostly vacant Sevastopol space station; a constant dread that makes every expedition out through the dimly-lit corridors and into the wide lobbies a terrifying and nerve-shredding ordeal.
Objectives are relatively rudimentary but that's kind of the point. Much like Isaac Clarke's thankless task of fixing things in Dead Space, Amanda Ripley (daughter of the franchise's heroine Ellen) must navigate through the serpentine walkways of the Sevastopol reactivating systems by completing a series of joyously analogue puzzles.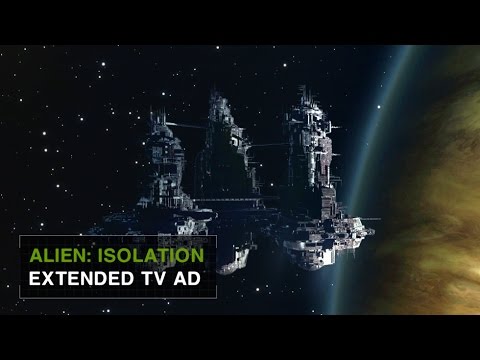 But while these are all simple, it's the constant, heart-pounding threat of a unstoppable, indomitable beast lurking in the shadows that gives them urgency. The bone-rattling though of a creature cradled above in the vents watching, while the station ominously groans and creaks as it drifts through deepest, darkest space.
The level of unrelenting tension is magnificently orchestrated, employing effective sound design, lighting and Jerry Goldsmith's original score to amplify the palpable fear of the situation. Of course, it's not all Alien all the time. There's a range of other threats from the desperate human survivors scrounging resources to the malevolent Working Joes – a series of malfunctioning robots refusing to deviate from their base programming.
Weapons aren't relied upon but are supplied. A gun can be a particularly efficient way of carving a path through hostile survivors but the noise will alert the Alien to your presence; while a selection of items can be crafted and used as a distraction, such as the noisemaker or flashbang. However, the flamethrower does risk overpowering the player, offering an easy deterrent to keeping the Alien at bay.
Nevertheless, Alien: Isolation is absolutely thrilling from start to finish. It's subtle, terrifying and completely immersive. It's not only the best Alien game ever made but also one of the scariest. Now let's all forget Aliens Colonial Marines ever happened.
Version tested: Xbox One